Welcome to CU*BASE GOLD Tool Documentation and Online Help!
Welcome to CU*BASE GOLD Tool Documentation and Online Help, which provides detailed information on every screen within CU*BASE.
Looking for an individual help topic for a specific screen?
To view the help topic that corresponds to a specific screen, click the Learn More About This Feature or Information button

 in the bottom of the screen you're working on. Alternatively, enter the screen's panel number in the Search field here in online help. The panel number is typically three or four digits long and is located in the bottom right corner of the screen.
Using the Search Feature
To search for specific help pages, enter a search term in the Search box on any page of the tool documentation. This will search the tool documentation pages, and you will be presented with a results page, as seen below. Remember, this will only search the tool documentation - to search through other online help, such as OPER Online Help or Show Me the Steps, select More Online Help and then jump to the desired homepage. To return to this homepage, select the logo on the upper left side at any time.
Search Results
As noted above, after using the search feature, you will be presented with a search results page. Simply select your search result to visit that page. The pages that match the search terms directly will appear first in the list, followed by the lesser matched results. Try different search terms to if needed to find additional results.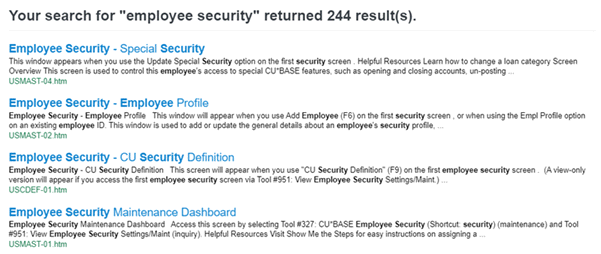 Screen Image
Many topics will contain a "thumbnail" graphic showing a very small snapshot of the related CU*BASE screen. This graphic was designed only to give a "frame of reference" and help you match the screen you are working with in CU*BASE with the correct topic in Help. The sample graphic may not exactly match the screen you see in the actual application, depending on how fields were selected and the settings of various configuration options. To see an enlarged version of the graphic, simply click "Click here to magnify" to expand the view of the graphic to fill the screen. Then use the Back button at the top of the Help window to return to your starting point.
Need Step-by-Step Directions?
Visit Show Me the Steps, a companion to CU*BASE online help that offers simple directions on hundreds of tasks within CU*BASE.
Want to See Even More Help Content?
Visit the CU*BASE Help Hub, a new website that helps users dive into the CU*BASE documentation with toolsets by category, viewing long form PDF booklets, quick links to topic overviews, and more.