Printing Loan Payment Coupons (2)
Access this screen from the first Loan Payment Coupon screen.  This screen is used for closed end loans.
Did you know your members can print loan coupons themselves in online banking?  Click here to learn more.
This screen is used to print loan coupons that a member can use when making payments on a loan account. Coupons are a handy way to remind members of payment due dates and amounts, and can also make it easy to process loan payments when they are received in the mail.
Following is a sample loan coupon formatted for a standard window envelope: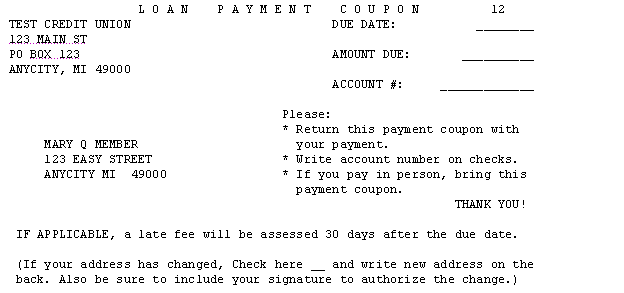 When all fields are filled in (see below for descriptions), use Enter to confirm and return to the initial screen. Repeat for any additional members. You do not have to print all coupons.  Select to start at a specific payment number by entering the payment # in the field provided on this screen.  All coupons will print when you exit the program and return to the Home Page.
Coupons print three to a page and are designed to be printed on special perforated paper. Individual coupons can be separated, then bound together in a "booklet" format. Contact a CU*BASE representative for more information on specifying appropriate paper from your paper vendor.
Members Print Loan Coupons Online
Members print their loan coupons in online banking by clicking the "Print Loan Coupons" link next to the "Pay Now" link in the detail of the loan account.  They then jump to a page which allows them to indicate the number of coupons to print.  (The limit is nine and three coupons print to a page.)  The next payment date is pre-filled for the first coupon, but the member can also select a later payment date or starting payment number.
Field Descriptions
| | |
| --- | --- |
| Field Name | Description |
| Printer ID | Enter a printer ID. Click the lookup button to see a list of your credit union's configured printers. |
| Next payment date | Enter the next date on which a payment is due; this will be the first coupon that prints. |
| # of coupons | Enter the number to be printed. Up to 999 coupons can be printed at once, based on the member's needs and the actual term of the loan. The system will use data from the actual loan account to determine the payment frequency and other parameters. |
| Start with payment # | You do not have to print all coupons.  Select to start at a specific payment number by entering the payment # in the field provided on this screen.  This will default to payment #1; however, you can use the Total Payments and Payments left information on this screen to calculate the member's next payment #. |
| User window envelope format | If you wish the coupon to be formatted so that it fits into a standard window envelope, place a checkmark in this field. |
| Name | Use this field to change the name that will print on the coupon. (This affects this printing of the coupons only; no permanent changes are made to member information.) |
| Address | Use these fields to change what will print in the address portion of the coupon. (This affects this printing of the coupons only; no permanent changes are made to member information.) |