Regulation D Configuration
Screen ID: 

Screen Title: 

Panel Number:

Report Name:

UREGDT-01

Reg. D Transaction Policy

6511

PRGDTX, PREGD


Click here to magnify
This screen appears after using the Maintain Reg. D Transaction Policy button on the initial Transaction Management and Analysis screen.
Create full-color PDFs of the data on the screen – PDF Exports
Learn about downloading data to Excel or acomma-delimited file
Introduction
This screen is used to configure which transactions should be monitored and reported for the purpose of compliance to Regulation D.
NOTE:  You  can use this screen to set up warnings to members when they exceed the allowed transfers in online banking and also to your staff when they are about to make a transfer in Phone Operator that exceeds the allowed transfers.  Refer to this topic for more information:  Reg D Monitoring: Reg D Counter Warnings for Phone Operator Transfers and Online Banking Transfers.
About Reg D
Reg. D is one of the ways the Federal Reserve Board implements monetary policy. Simply put, for share and money market accounts, credit unions may allow no more than six (6) withdrawals or transfers to other credit union accounts or third parties by means of pre-authorized automatic transfers, or by telephone orders or instructions. No more than three (3) of the six transfers may be made by check/draft, debit card or similar order to a third party.

Although credit unions with total deposits of $5 million or less are exempt from Reg. D reporting and reserve requirements, those credit unions should still observe the limits on automatic or pre-authorized transfers or withdrawals from share accounts described in the regulation. Failure to do so will result in share accounts being considered transaction accounts.
Using this Screen
This Reg. D Transaction Policy screen lets your credit union use CU*BASE Tran Code and Tran Type codes to identify the types of transactions you consider to be "telephone orders," "automatic transfers," etc., for compliance to the regulation. The settings on this screen are used in connection with the Reg D Transaction Account and Reg D Transfers Per Month fields on the dividend application configuration record to determine what accounts should be monitored.
CU*BASE will monitor activity on these specially-designated accounts and report any violations on two daily reports (see the samples below). This monitoring is done at the end of each day.
Remember that CU*BASE does not prevent transactions; it simply reports them so you can make appropriate decisions about how each account should be handled.  Warning messages are presented in Phone Operator and, optionally, to the member in It's Me 247 online/mobile banking, when a transfer is about to be posted that would be more than the allowed number of transactions.
Reg D fees, if any, are assessed at month end using a Transaction Service Charge, which is credit union defined and is not tied to this configuration.
SEE ALSO: Transaction Service Charge Configuration.
NOTE: Currently CU*BASE does not distinguish the "sub-count" of 3 drafts. Only a total number of transfers can be configured for monitoring.

NOTE: To comply with the existing regulation, CU*BASE no longer counts loan payments made from a Reg. D account if the loan is also at your credit union. This change applies to transfers you make for the member via Phone Operator, as well as transfers the member makes in online banking. This means that when a member transfers funds to make a payment to a loan at your credit union via these channels, the transfer does not count toward Reg. D; however, a transfer to another bank in your area does. This change was implemented for online credit unions April 5, 2012.
When the screen first appears, it will be sorted by Transaction Code. Use the Application Type field at the top to display transactions for any of the following product categories (Application Types) to which Reg. D rules apply:
SH Share
SD Share Draft/Checking
TX Tax/Escrow
IR IRA
To view transactions in order by origination code (i.e where the transaction originated), use Sort by Origin (F11) to change the sort order.
HINT: Remember that overdraft transfers that occur as a result of an in-house drafts posted via the teller system will use Origin Code 01 (regular share draft processing uses Origin Code 02).

This lookup uses the REGDORG file with SYSCTL for the description names.
To show a warning to members when they are about to exceed the allowed transfers in online banking, apply the counter to Origin Code 96 (check the box in the Reg D column).  Then check the Generate Reg D warning message in online banking and use Enter to save the change.  Then click Message Text (F12) and enter the warning message you would like your members to see in online banking. Then use Update (F5).  One item to consider would be to alert members of any fee they may be charged, if applicable.
Reports
The following reports are generated automatically as part of daily processing and should be reviewed as part of your Reg. D compliance procedure.
· PRGDTX - Regulation D Violation Register
· PREGD - Regulation D Statistics Report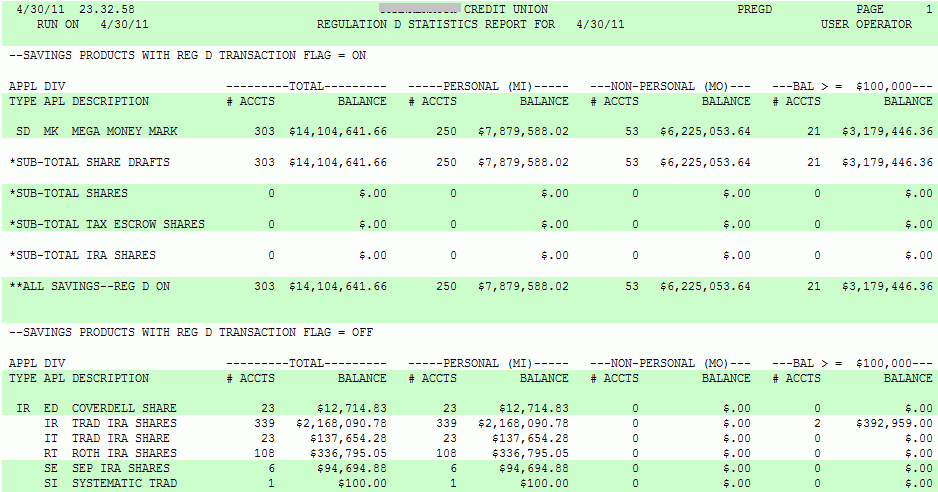 (End of report)