Creating a Tracker (2)
Access this screen from the first Tracker screen.
Helpful Resources
Learn how to complete tasks related to Trackers.
Learn how to complete tasks related to collections.
Screen Overview
This is the second of three Tracker Entry screens. This screen is used when creating a new Tracker record as well as when updating an existing Tracker, such as when maintaining the member's Collection Card. In both cases, this screen is used to record notes from one conversation with the member.
Use the top portion of the screen to enter notes about this contact with the member. When done, use Save/Continue (F5) to save changes and proceed to the final screen.
Special instructions on entering text in the text box.
BE CAREFUL: Changes cannot be made once this entry has been saved and completed on the final screen, nor can the note be deleted. In other words, this becomes a permanent part of the member's account history, so make sure to check your work before continuing!
Reviewing Other Conversation Notes
The bottom portion of the screen displays information from the last conversation note, including the date and time, memo type, and follow-up information, if any.
This might be the most recent note on the Tracker record, OR, on an ongoing Tracker record that has multiple follow-ups, it might be the last note from the related follow-up thread. Read more about follow-up threads. Either way, it is intended to give you the most recent conversation that was had with the member about this particular subject.
When navigating, it helps to think of the notes as being stacked on top of one another, with the most recent at the top, similar to the Review Trackers screen. To navigate to the other conversation memos, use the blue buttons at the bottom edge of the screen:

CU*TIP: Records created prior to the new Tracker system will be stored in one long conversation note; clicking

or using Last (F18) will usually get you to that note the quickest.
Monitoring for a Promise-to-Pay payment or Other Transaction
If you enter a Memo Types here that has "Used to monitor account daily for specific transaction activity (e.g. Promise-to-Pay)" checked in the Memo Type configuration, this feature will monitor for a deposit/payment from a member, for example in conjunction with a Promise-to-Pay situation.  If the deposit is made, this Tracker will be turned off during end-of-day processing.  Additional fields will appear on the next screen allowing you to enter the suffix to be monitored, as well as the date range and amount.  Learn more about Promise-to-Pay and other transaction monitoring.  This feature is only available for a Memo Type associated with a Collections (XX) Tracker.  Also learn more in the Configuring Tools for Collections booklet.
External Links in a Tracker
If once you select a Memo Type, an arrow

appears to the right of the tracker entry, this Memo Type is configured for external links. Enter an intranet address or website address in the Tracker text. When this Tracker entry is viewed at a later date, the person viewing the Tracker entry will be able to launch the intranet page or website. For example, use the Tracker to make a record that you mailed the member a letter or other personal correspondence, by entering a link to that document here.
Use a format like this:
The URL must be a complete address, similar to what you would enter into an email message or on an Intranet page to open a document using your workstation's browser software. Spaces are allowed and casing is ignored.
https://www.abccu.com (a website)
https://192.168.1.11/insideabccu/msr.htm (an intranet page)
Searching for Notes
To look for a particular note or to display only notes that have something in common, use F16-Filter to display the following pop-up window: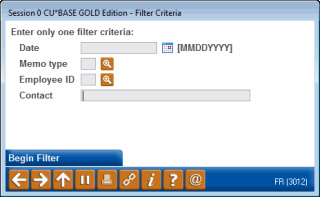 Enter search criteria into just one of the fields, then use Begin Filter (F16) to search for the first note that matches.
Once you have set up a filter, the other navigation keys (Top, Bottom, Next, and Previous) will only scroll through other notes that match your criteria. For example, if you choose a Memo Type of "Broken Promise" in the search window, then you can use

and

to scroll through just the other notes that were flagged as broken promises.
To return to all notes again, use Filter (F16) to display the pop-up window, make sure all fields are clear, and press Begin Filter (F16). (Notice that the notation "Filter On" will disappear from the upper-right corner of the screen.)
Buttons
Button

Description

Phone Inquiry (F2)

Use this to display this membership in the Phone Inquiry main screen.

Previous (F10)

Use this to display a different conversation note in the bottom portion of the screen.

This goes backwards chronologically, so in this context, Previous really means the previous entry above the one you are viewing. Think of your conversations as being stacked on top of each other, most recent at the top, such as what is shown on the Tracker Review screen.

Filter (F16)

Use this to look for a particular note or to display only notes that have something in common. See the instructions above.

Use this to view a list of all additional signers for any loans under this member's SSN. This is particularly helpful with working on the member's Collection Card tracker record.

If this is absent, it is due to privacy controls.

Conversations (F20)

Use this to display the Tracker Review screen and see all conversation notes attached to this Tracker in chronological order.

If this is absent, it is due to privacy controls.

Print Notice (F21)

Access the screen where you can select a form from a list to print (and send) to a member.
Additional Video Resources
| | |
| --- | --- |
| | Check out these additional video resources! |
Adding a Cross-Sales Conversation to a Tracker
Enter and Schedule Follow-up for Tracker Conversation
Researching Details of Delinquent Account